Investing Property in Panama
With its natural beauty, bustling cities and fantastic beaches on both Pacific and Caribbean coasts, Panama has been one of the sensations of the US property investment market in recent years. So with the pound in a strong position against the dollar, what does property in Panama offerUK investors?
Property investment specialist Amberlamb.com says: "With the fastest-growing, most stable economy in Latin America built on tourism, real estate, financial services and, of course, the canal, the excellent economic stability of the nation is pretty much assured, giving investors great confidence in the market. Monetary and price stability are assured as the local currency is linked to the US dollar."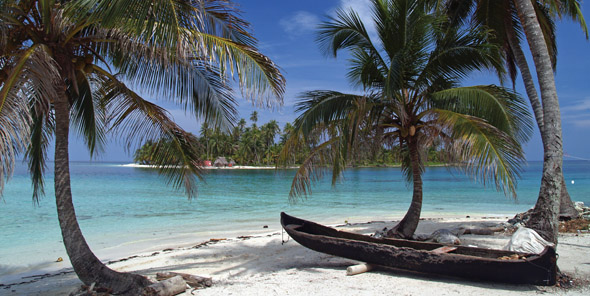 Prices have started to rise impressively over the last few years, and some experts are predicting this period of capital appreciation still has some time to run, although others are wary of the credit crunch effect, given the market's high levels of exposure to US buyers.
Liam Bailey of David Stanley Redfern says: "The boom in Panama is still fairly young so it is difficult to predict capital appreciation figures, but I know that prices on plots of land recently tripled in a very short time, and the sudden, rapid expansion in the economy is triggering price rises on everything across the board, including building materials. Based on Panama's sudden popularity, low property prices and low living costs, the influx of American retirees buying property, and the fact that it is attracting global corporations like Hilton and Donald Trump to build sky-scraping hotel complexes, I would feel safe to put a figure of 15 to 20 per cent on capital appreciation in Panama."
Dan Johnson of The Move Channel is less sure of blanket price rises, and says buyers should look hard to make sure they are choosing schemes that will hold their value. He points to high levels of development in and around Panama City, schemes that may struggle due to their reliance on US buyers who have been made cautious by the credit crunch.
He singles out Panama City's Casco Viejo, or old town, as a good investment. "In the longer term this will be a great part of town. It has colonial Spanish style, and the government is committed to regenerating it. It is a unique neighbourhood, and although you will pay a premium here it should hold its value well."
Elsewhere in the city, Johnson tips suburbs such as Clayton and Allbrook, which were traditionally home to US service personnel and have a lower density of housing and more green space than much of the city.
Moving rapidly up the price brackets, YOO Panama is described as "a spectacular residential development, created by the original vision of YOO by Philippe Starck, the world's most sophisticated residential designer". Located on Balboa Avenue, bordering the ocean and offering magnificent views of Panama Bay, Panama City and the Panama Canal, the scheme features a swimming pool, spa, concierge service and interior design by the man himself. Prices for a one-bedroom unit start at £182,000.
Dan Johnson thinks the new motorway to Colón will open up the Caribbean coast, which is lightly developed at the moment due to a lack of access and difficulty in gaining clean title on land for developers, while tipping Boquete, located high up in the cloud forest of Chiriqui Province, as another promising location.
Liam Bailey says: "Like in any property boom the main focus of the drive upward in prices are the bigger cities, especially when, as in Panama's case, the boom is fuelled by rising migration and tourism. In places like the city of David, and the capital, Panama City, rental yields on properties are put at around 11 per cent for a 190-square-metre unit; that yield lessening as property size increases."
His company is marketing a condo-hotel development in David, Panama's third largest city. Prices for the one-bedroom units in the Best Western Hotel and casino range from £32,000 to £52,000, and DSR is predicting rental yields in excess of 18 per cent. The company says: "David is the entryway into the picturesque town of Boquete, long hailed as one of the top retirement destinations in the world, as well as Volcan, the next up-and-coming area in Chiriqui. The Best Western will be located in the former Panama Rey Hotel, and just two blocks from the Gran Nacional Hotel (currently David's top hotel, with rates of approximately £40 per night). David currently has no flagship hotels, yet tourism and relocations to the area are increasing exponentially (as well as real estate values) The David Best Western Condo Hotel will build on solid market fundamentals to provide investors excellent returns."
A benefit to investors is Panama's climate, which is tropical with little seasonal variation in temperatures, which range from 21 degrees Celsius at night to 32 degrees Celsius during the day, all year round. This means a lengthy rental season, although there are peak times, which depend on the seasons. "The dry season is November to April; this is the main holiday season in Panama, but the green season, or the rainy season, which runs from May to September, has its benefits such as cheaper holidays, and you see a green Panama filled with wildlife," says Bailey.
Rental incomes can be significant: a two-bedroom villa in Boquete should achieve £350 per week, a luxury villa in Bocas del Toro around £400 per week, and a good quality two-bedroom apartment in Panama City between £300 and £400 per week.
As for the buying process, Bailey says: "There are seven procedures in the buying process which can be completed in around 44 days. The only restrictions on foreign ownership are that foreigners can't buy islands or property within ten kilometres of the frontiers. As for pitfalls it is advisable to buy titled properties instead of properties with possession rights [derecho possessorio] only."
Foreigners are able to get mortgages to buy property in Panama, which, due to its status as a burgeoning financial centre, has strict controls on the market. Mortgages here are typically for a 30-year period, and can be purchased with a loan-to-value ratio of up to 80 per cent. Interest rates are typically around 6.5 per cent.

First published in March 2008.
Some information contained within this article may have changed since it was first published. Homes Overseas strongly advises you to seek current legal and financial advise from a qualified professional.
comments powered by

Disqus