Strong Demand Has Helped Increase the Value of Property in Cyprus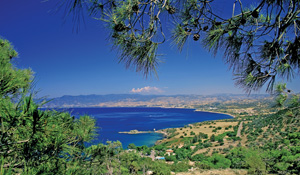 Cyprus property is popular among Brits due to the island's intense Mediterranean climate, including over 300 days of sunshine a year, making it a prime holiday destination, as well as a trendy place to retire. Cyprus offers a relaxed way of life, low levels of crime and relatively low cost of living compared with other Western European countries.
The country's economy has really strengthened in recent years, while Cypriot residents continue to enjoy one of the lowest levels of income tax in Europe, and pensioners are taxed just five per cent on their income.
Cyprus is considered a tax-efficientdestination and has a double-tax treaty agreement with over 30 countries, including the UK, which means that residents can extract profits from property investments in Britain at a reduced rate or with no tax payable at all. However, Cyprus property is liable to Capital Gains Tax of 20 per cent, while Corporation Tax is charged at 10 per cent.
Buoyed by a strong economy and an influx of low-budget flights, Cyprus developed into a property hotspot between 2004 and 2007, attracting property buyers' from around the world, particularly the UK and Russia. Research shows that around 30 per cent of all homes sold in Cyprus since 2004 were sold to overseas nationals.
Strong international, as well as domestic demand for property in Cyprus, helped to drive prices upwards. The Cyprus Home Price Index (CHPI) shows that average property prices rose by 19.2 per cent in 2007 alone.
"Over the last five years, property prices have more than doubled," says Sacha Appleton of Cypriot property developer Pafilia.
However, given the current global economic turmoil, the market for Cyprus property has slowed considerably. Property price growth was far less dynamic in 2008, recording average appreciation of just 2.8 per cent, according to CHPI data, bringing the average home price in Cyprus to £170,400.
Gloria Aubury of Paphos Properties says: "The Cyprus Property market is very similar to the UK at the moment, there is very little activity with official figures showing property sales down by 51 per cent in some areas."
Part of the reason for the fall in demand, particularly from Brits', was Cyprus' decision to give up its national currency – the Cypriot pound – and adopt the euro last year. This has hiked up the cost of buying property in Cyprus for many Britons, due to sterling's weakness against the European single currency, having depreciated in value by around 20 per cent year-on-year.
Aubury comments: "The poor exchange rate has made Cyprus more expensive for British tourists and permanent residents who find once their pensions are converted their income is greatly reduced."
Nevertheless, the greatest international demand continues to come from the UK, along with Scandinavia and Russia, according to Jonathan Salsbury of Cybarco UK.
The fall in sterling's value could prove to be something of a "silver lining", for Brits selling-up in Cyprus, as they would make "a tidy profit of 20 per cent as a direct result of the exchange rate fluctuation," says Mark Bolsom of currency exchange firm Travelex, or at least offset any potential fall in property price.
There are concerns that property prices could fall into negative territory across much of the island this year, due partly to constrained access to mortgage finance and an oversupply of homes.
Aubury comments: "There is an oversupply of properties now, mainly with two-bedroom apartments in the Paphos and Larnaca areas … it is possible for a non-Cypriot to borrow in Cyprus but it is more difficult than it was, and usually a 30 or even 40 per cent [cash] deposit is now required."
The Cypriot government may add to the oversupply of homes on the island, with its plans to sell-off around £180 million worth of properties, in order to raise capital. This could further hinder the country's ailing house building industry.
Thousands of building jobs have been lost in the past year. Yet a further 3,000 construction jobs could be cut in the Paphos region alone over the next few months, according to a survey carried out by ACMA Consultants on behalf of the Paphos Building Contractors Association.
Golf
Looking forward, the medium to long-term prospects for the property market seem positive, and could receive a much-needed boost from the Cypriot government's attempts to establish the country as a prime golfing destination. Cyprus already has three golf resorts in the Paphos district and planning permission for a further 14 courses was recently granted.
Golf ultimately attracts a different segment of the tourist market (higher expenditure per capita) and helps to extend the rental season. This should have a long-term regeneration effect, which would appeal to property investors looking to cash in on the sport's popularity, and the vast disposable incomes of those who play it.
"With more international standard golf courses there will be higher demand for property in Cyprus – both holiday homes and rental investments. Such demand will naturally impact on prices," says Salsbury.
A golfing holiday home in Cyprus remains considerably cheaper than established golfing locations such as Spain and Portugal, whose seemingly unending obsession with golf resort developments has attracted more tourists, retirees and investors over the years.
Property investors wishing to speculate by buying into future golfing projects in Cyprus will be keen to learn that the new courses are expected to be built in the Limassol district of at Ayios Ambrosios, at Paramali and Fassouri, at Polis Chrysochous in Paphos and Ammochostos-Larnaca.
Disneyland
Another potential boost to the Cypriot market is a proposal to build a Disneyland holiday resort in the town of Pyla a village located in the Larnaca district to the east of the island. Planning permission has already been submitted.
If planning consent is approved, the scheme will become the largest ever single investment made on the island and would create around 3,000 jobs, according to Finance Minister Charilaos Stavrakis.
Salsbury comments: "The proposed Disneyland style resort will be a major tourist attraction which will impact on local property prices, primarily from a rental perspective."
Other major infrastructure projects taking place on the island include, new marinas, yacht clubs, sports clubs and new dual-highways. Larnaca and Paphos airports have also been expanded and will by 2010 be capable of holding up to nine million passengers per year.
Where to invest in Cyprus property
Paphos property
Some of the best returns can be achieved from Paphos property due to the long tourist season, but this is reflected in high property prices. Popular regions of Paphos include, Kato Pafos, Tombs of the Kings, Coral Bay, Sea Caves, Tala, Peyia and anywhere on or near the three golf courses.
Property in Nicosia
There are many international companies in Nicosia, with workers that require long-term accommodation (rental periods in excess of 12 months). The majority of Cyprus' government and large educational institutions are also based in Nicosia.
Limassol property
Many offshore companies are based in Limassol – which has a population of around 200,000 inhabitants - whose workers need long-term accommodation. The area has the added attraction of being a coastal resort.
Larnaca property
Located to the southeast of the island, prices of property in Larnacaare around 15 per cent cheaper than Paphos, Limassol and Nicosia, although the construction of a new yacht marina, and port for cruise ships, could drive property prices higher in the long-term.
Famagusta property
A large marina will be built in Ayia Thekla, Famagusta district, by 2011. It will offer berths for more than 600 luxury yachts making it one of the largest on the island.
Property in Latchi and Polis
Demand for property in Latchi and property in Polis, two rural towns, has increased since a new nearby highway cut the commute time to other parts of the island.
North Cyprus property
Cyprus is divided into two areas (Greek Cypriot and Turkish Cypriot), following the 1974 Turkish invasion and occupation of 37 per cent of the island's northern territory. There is a high element of risk attached to buying property in Northern Cyprus. Much of the land and property is, in the eye of the international community, still owned by Greek Cypriots, which can create legal issues for anyone who buys property or land in the occupied areas of Cyprus.
Title deed debacle
One major concern with buying property in Cyprus is people's difficulty in obtaining title deeds – the most important evidence of property ownership. Around 30,000 foreigners who bought properties in Cyprus are still waiting on their title deeds, according to the Cyprus Land Registry.
The issue is so serious, that top politicians in the UK are now discussing the matter of protecting the rights of property buyers in Cyprus.
British Foreign Secretary David Miliband recently commented: "I understand the concern about the practice in Cyprus of title deeds not being supplied on completion of a property purchase.
"The practice of property developers not supplying title deeds to purchasers has the potential to affect a large number of British citizens as well as other foreign nationals living in Cyprus."
The Cypriot authorities insist that they are trying to resolve the matter, but with no resolution to date.
Summary
Wherever you choose to buy property in Cyprus, you can rest assured that the country's legal system and land registry are based on British law. However, the huge delays in obtaining title deeds are a major problem and can cause complications when applying for a mortgage.
The fact that property prices have slowed could prove necessary for the long-term sustainability of the Cypriot market.
"[Property] prices had to settle down, otherwise we'd have problems in the future," said Charalambos Petrides, vice president of the Property Valuers' Association.
The property slowdown may be bad news for people who purchased a home at the peak of the last property boom, but it does present a fabulous opportunity to negotiate a significant price reduction on any Cyprus property purchased now.
First published in April 2009.
Some information contained within this article may have changed since it was first published. Homes Overseas strongly advises you to seek current legal and financial advise from a qualified professional.
comments powered by

Disqus