Top 10 Locations for Overseas Property Investment - 7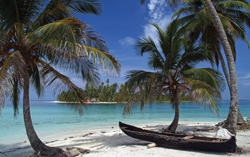 Property in Panama
Investment in property in Panama has soared over the past few years on the back of impressive economic growth and a generous tax regime that has prompted thousands of American retirees to relocate to the country.
The International Monetary Fund has predicted that Panama will become Latin America's fastest-growing economy in 2009. In 2007, GDP growth was 9.2 per cent and property prices have been rising by as much as 25 per cent per year.
The Global Property Guide estimates that there are currently 40,000 residential units under construction in 300 skyscraper projects, and this frenzy of building has led to Panama being dubbed the Dubai of Latin America.
Overseas investors tend to go for property in Panama City, property in Los Santos on the Pacific coast and property in Chiriqui.
The question for those investors who have yet to buy there is whether Panama still offers good growth potential, or whether the market has peaked. There are a number of positive omens.
Foreign money continues to pour in – Donald Trump and the Nikki Beach hotel chain are among the high profile investors who are building multi-million dollar projects in Panama. 
The country is also likely to remain high on the list of retirement destinations for Americans, although to ensure this, the government will need to continue its efforts to rein in inflation.
Panama has historically enjoyed very low inflation, but the rate hit 10 per cent in 2008 and in response, the government has urged banks to tighten credit in an effort to bring it under control.
Tighter credit conditions should also lessen the risk of the booming property market going bust, and this should be of some comfort to investors concerned by recent economic data.
Economic growth during the first quarter of 2008 was 6.9 per cent, well down on the 10.41 per cent recorded during the same period in 2007.
While that rate of growth is still impressive, it does underline the fact that Panama's economy is set to return to more normal levels of growth. As a result, investors should now be viewing the country as a medium to long term proposition.
Investors who bought into Panama two or three years ago have been seeing yields as high as 11 per cent.
Yields will inevitably fall as economic growth slows and the supply of property increases, but buyers who choose their unit wisely, and who realise the changing nature of the market, should still be rewarded with solid rates of return.
First published in February 2009.
Some information contained within this article may have changed since it was first published. Homes Overseas strongly advises you to seek current legal and financial advise from a qualified professional.