Where to Find Cheap Property in Turkey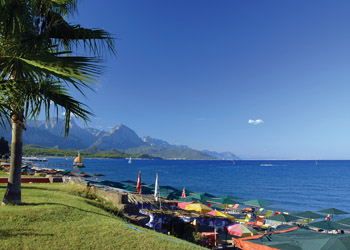 Despite its ancient roots, and today's fiscal woes, Turkey is one of the fastest-growing economies. Since a financial crisis in 2001, the country has made an impressive recovery, now boasting a robust economy with many international businesses relocating there. Tourism is on the up, too, and is set to rise further this year. Enquiries for holiday accommodation in Turkey increased by 65 per cent in the year to February 2009, according to holidaylettings.co.uk.Given all these positives, the market for Turkey property is widely considered to be firmly in the ascendant. Richard Hattam, director of Landmark Properties International, explains: "Over the last few years, Turkey has enjoyed very good capital growth – this is expected to continue. As Turkey is not over-developed, there are some fantastic plots and locations on the coast, which are just being bought by developers now."
Andrew Hawkins, head of international development at property agency Chesterton, adds: "Turkey as a destination is becoming more attractive, and is considered a decent place to invest. It is slightly less affected by the current economic climate than lots of other European destinations because the market for property in Turkey is not as developed."
And property in Turkey is astonishingly good value. A budget of £150,000 is almost surplus to requirements. Julian Walker, director of property agency Spot Blue, explains: "Apartments start at around £20,000, and villas kick in at about £70,000. There are some places where your budget wouldn't go that far though, such as the north shore of the Bodrum peninsular, Gocek, Kalkan and central Istanbul."
The most popular areas tend to be dotted along the two main coastlines: the Aegean and Mediterranean. Starting with the Mediterranean, in the south of the country, property in Alanya, a cosmopolitan town, is popular. A new airport is near completion, offering more choice for travellers to Alanya and nearby Belek.
The Hill, Alanya, won the Homes Overseas Gold Award for Best Development, Turkey, last year. Nestled on a hill, each apartment enjoys uninterrupted seaviews. Priced from around £109,600, this is one of the few Turkish developments with off-plan mortgages available for foreign ownership, with up to 65 per cent loan-to-value available.
Andrew Hawkins from Chesterton, which is marketing The Hill, explains that the developer, Koray, is well-respected in Turkey and, therefore, build quality at The Hill is higher than average. Plus, he says, the location has a promising future, due in part to the new airport. He explains: "This coastline is perhaps less well known to a British audience, but that's going to change over the next couple of years."
Heading west, Belek and Side are very popular among golfers – there are around 15 professional-standard, 18-hole golf courses in Belek, with plans to build another 15 courses over the next ten years. Property in Side is slightly cheaper than property in Belek, and it is close enough to golf courses to offer a good rental return for investors.
Golf Gardens in Belek is a good example. Priced from £110,500, there are apartments with two bedrooms, and penthouses with three and four bedrooms. The complex sits next to a new 18-hole championship golf course designed by Colin Montgomerie, and close to a 27-hole championship course by Nick Faldo. The properties, on the market with Nirvana International, offer a five-per-cent rental guarantee for one year on penthouses.
The resorts of Dalaman and Fethiye, which flank Gocekon the Aegean, are so popular that the international airport at Dalaman has had a major refurbishment to cope with huge numbers of tourists. Considered great for investors, the prices are very accessible, despite the area's popularity. For example, Spot Blue has one-bedroom seaview properties in Fethiye priced from £63,750. Situated close to the old town centre, there are just seven apartments nestled into the hillside, overlooking the harbour.
Bodrum is a popular tourist spot, with excellent shopping, restaurants and nightlife. However, there are many tranquil bays and inlets on the Bodrum peninsula. For example, the pretty fishing village of Gumusluk is a €10 taxi ride from the markets, bazaars and nightclubs of Bodrum town.
Landmark Properties has three-bedroom detachedproperties in Gumuslukfor sale at the Tatilbelen Life Project, priced at £126,500. Set within a natural stone wall on a hillside, cars are not allowed inside the development. Each property has solar-heated water, and green plants on the roof, making the seaviews even better.
Continuing north, Didim and Altinkum are good value and popular with British investors. Hattam from Landmark explains: "The prices are very competitive, with apartments available from just £25,000. Most budgets will go a long way in Didim, there are some great beaches, and most locals speak English and embrace tourism."
A three-bedroom detached property in Didimat 'A Touch of Paradise Country Club' is still well-priced at £130,000. On the market with Landmark Properties, the complex is close to the beach and has on-site facilities such as shops, mini golf and a Turkish bath and sauna.
Izmir, further up the coast, is a popular town with competitively priced property. Landmark's Hattam says: "There are some very exciting projects currently available close to Izmir that offer excellent on-site facilities – these are great for an investor looking for a good rental return, and there are plenty of historic and tourist spots to be explored for those with an adventurous mindset."
A three-bedroom, three-bathroom, detached property in Izmirat the Sea Life Beach and Spa resort in Mordogan, Izmir, is on the market with Landmark Properties for £123,400. On-site facilities include a large-yacht marina, spa and outdoor sports.
Turkey's largest city was pronounced 'one of the coolest cities in the world' by Newsweek magazine. Situated on the Bosporus Strait in Turkey's north, Istanbul is to be crowned European Capital of Culture 2010. Prices of property in Istanbultend to be higher than elsewhere in Turkey, partly because there is a significant housing shortfall. However, it is possible to find something on the outskirts within budget.
Spot Blue is marketing off-plan apartments from £68,500. Located in a commercial area near the city's Formula 1 racing circuit, the development would suit young executives, says the agent. There is significant investment in this area, with a shopping centre, pharmacy, laundry services and even a cinema planned. A rental income of 9.5 per cent is guaranteed for five years, illustrating positive rental potential.

First published in May 2009.
Some information contained within this article may have changed since it was first published. Homes Overseas strongly advises you to seek current legal and financial advise from a qualified professional.
comments powered by

Disqus