Dubai property prices should rise in Q4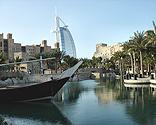 6 July 2009
Dubai property prices are provisionally starting to stabilise as the market embarks on the road to recovery, according to Sherwoods Independent Property Consultants.
The company expects residential prices to start appreciating by Q4 2009, followed by a year of 'stability' in 2010.
Iseeb Rehman, managing director of Sherwoods says the fall in Dubai property prices has created the potential for good value for money deals for both buyers and investors.
Commenting on the fact that Dubai has recently introduced a series of property regulations and legal framework in an attempt to improve the sector's transparency, Rehman told the press:
"I think the effort put in by RERA (Real Estate Regulatory Agency)has been extremely positive, but the challenge is to continue to carve out and enhance the regulatory framework and to ensure adherence of the same from all segments of the industry.
"Also, I think they now have to focus on sending positive signals into the market and make sure that the interests of every segment of the real estate industry is taken care of."