European tax havens avoid property crash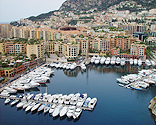 13 July 2009
European tax havens located within close proximity of Britain have managed to avoid the property downward experienced across much of Europe, due partly to an increase in the number of wealthy Britons seeking to flee the UK, and avoid likely tax rises, according to a report out today.
Advisory specialist, Sovereign Group, report that property values in Monaco and Gibraltar have not fallen, and have either stabilised or appreciated, despite the fact that the price of nearby properties in Cote d'Azur and property in Costa del Sol have fallen by up to 50% since the peak of the market in late 2007.
Residential prices in the Isle of Man, Geneva, Guernsey, and Jersey have also posted gains, according to the report.
Much of the demand for homes in these tax-friendly destinations is being fuelled by a "new breed of British tax refugee", says Howard Bilton, chairman of the Sovereign Group.
"For many months now, 20% of all new business at our London office has been from wealthy individuals looking to move offshore to escape what they expect to be increasingly harsh tax rises," he added. "Very often, these clients are looking to take their businesses with them."