Global property prices improve – Knight Frank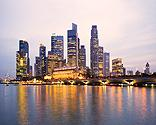 10 December 2009
Singapore property prices recorded the greatest rise in the world during the third quarter of 2009, according to the latest Global House Price Index from Knight Frank.
Although property prices in two-thirds of the countries covered in the index increased, property values in over half the destinations featured still remain down year-on-year.
Property in Israel posted the greatest gains, up 13.7% year-on-year.
During Q3 Singapore property prices increased 13.7% compared with Q2, while Dubai property values dropped 47% year-on-year.
'House prices are now rising in a clear majority of locations around the world with almost 70% of the locations reporting growth in the third quarter of 2009. This compares with under 50% during the second three months of the year,' said Liam Bailey, head of residential research at Knight Frank.
He added: "There is still, however, a clear polarisation from the top to the bottom of the table. Israel remains the best performer on an annual basis and is the only country to have recorded double digit growth.

"Dubai have fallen the most despite posting a small recovery and the recent debt issues with Dubai World and the subsequent loss of confidence by investors means even this nascent rally is already under threat."
Property in Spain, property in Denmark and property in Ireland have yet to record their first quarter of growth since the credit crunch, largely due to an oversupply of housing and weak economies.