Olympic 2020 would stimulate Dubai property sector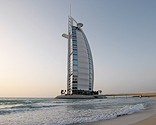 2 July 2009
Potential plans by the ruler of Dubai to put together a bid to host the 2020 Olympic Games is looked upon as a decision that could boost the flagging Dubai property market.
The emirate is currently at the due diligence stage with regards to bidding for the Olympic Games. But should Dubai go-ahead with a bid, it can rest assured that there are already has a number of sports venues, as well as the infrastructure to host such a major sporting event, with further developments in he pipeline.
Under plans for Dubai 2020, the emirate also wants to host the World Expo, a platform for innovations in science and industry that is held every five years.
Historically, property prices in the host city have often appreciated in the run-up to the Olympic Games, outstripping national average growth.
Blair Hagkull, managing director, Mena, Jones Lang LaSalle, said: "Dubai does have a lot of attributes in order to hold such large-scale events and the government of Dubai is sending a strong message to the world by announcing the Dubai 2020 initiative. Hosting such a large-scale event does have a tremendous positive impact on different sectors, including the real estate sector."
2016 Olympic Games
Shrewd property investors will be keeping one eye firmly on the Olympic Committees selected city to host the 2016 Olympic Games. The cities shortlisted to shot the vent are Chicago, Madrid, Tokyo and Rio de Janeiro.