Poland's housing market still "in the doldrums"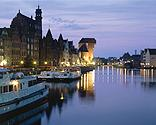 15 July 2009
The Polish property market is still struggling due mainly to the global financial turmoil and an oversupply of homes, according to Emmerson Real Estate's 'Major Polish Residential Markets in mid-2009'report.
Although the study shows that residential prices are no longer in freefall, it does say that the housing sector is still in "in the doldrums".
The markets in Warsaw, Kraków, Lódz, Poznan, Wroclaw, Szczecin, Katowice and Tri-City have all suffered amid an oversupply of homes, including a number of new-build units which were built largely to cater for the growing number of investors buying into the country's residential market a few years ago.
Many off-plan residential projects have now been put on hold, due to a fall in demand, particularly in the Warsaw area, where the greatest oversupply of homes exists.