Property in Portugal still number one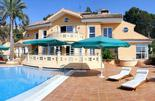 Property in Portugal still number one
Property in Portugal remains the number one most searched for destination to buy a home abroad based on country page views, and property views, on homesoverseas.co.uk.
Portugal property enquiries have increased month-on-month since the beginning of 2009, having started the year as the fourth most searched for destination buy a property overseas.
Elsewhere, Turkey property has leapt from eight to fifth, French property is up from seventh to sixth, Thailand property has fallen a place to seventh, USA property has dropped from fifth to eight, Cyprus property is up one to ninth, while Egypt property has replaced Bulgaria property in to the top 10.
Here are the top 10 most searched for destinations in which to buy a home overseas at the moment, last month's position in brackets:

1) Portugal (1st)
2) Spain (2nd)
3) Italy (3rd)
4) Greece (4th)
5) Turkey (8th)
6) France (7th)
7) Thailand (6th)
8) USA (5th)
9) Cyprus (10th)
10) Egypt (11th)