Sharia law enters France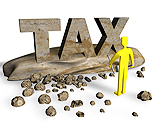 7 May 2009
France has overhauled elements of its domestic tax law in a move that will allow the rules of Islamic finance to be followed without attracting tax penalties, therefore viewed by the tax authorities in the same way as their western counterparts.

The term 'Islamic finance' pertains to the ways that business and personal financial matters are handled while respecting Sharia law. Sharia forbids gambling and interest and so many of the transactions which are regarded as normal to conventional financial institutions – ranging from mortgages to interest bearing savings accounts to insurance – have to be structured differently and can in the process attract a tax penalty.
One of the first companies to benefit from France's radical reform to its stance on Islamic banking is Islamic Finance Advisory and Assurance Services (IFAAS), a UK-based consultancy specialising in providing advisory & training services to financial institutions in Sharia compliance.
Managing director of IFAAS, Mohammad Farrukh Raza, says: "France, with its Muslim population and its particularly strong ties to the Arab world, provides a vast opportunity for organisations looking to develop their Islamic Finance offering. In addition to this, France is one of the world's leading economies and is an attractive place for investment from around the world."
France has a Muslim population of six to seven million people, the largest in Western Europe.
comments powered by

Disqus