Spain market bottoming out?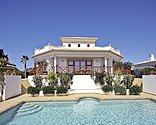 4 June 2009
Astonishingly, Laura Nicoll, director of Iberian International, believes that it is only a matter of time until there is a housing supply shortage in Spain, in spite of the fact that there are currently over a million homes lying empty in the country.
Some experts' project that the volume of homes built in Spain could fall to under 200,000 annually, within the next couple of years, to help absorb the current oversupply of homes on the market. But surprisingly, Nicoll believes that this will translate to an "inevitable supply shortage in the coming years", which will cause an "increase in property prices."
Nicoll says that property in Spain has now reached the bottom of the market, and that prices will not fall any further.
"Spain is still one of the world's top holiday destinations with more than 40 million people visiting each year, says Nicoll. "Housebuilders have recognised this and reduced their prices as low as they can go and we believe we will not see any further [property price] reductions. There has never been a better time to buy a home in Spain."
However, despite Nicoll's optimism, the Spanish property market downturn appears to be far from over.
Fresh data from the BBVA, Spain's second largest bank, estimates that average Spanish property values will depreciate by 10% this year, and by a further 12% next year.
In fact, the bank does not expect prices to start to recover until at least 2012.
The bank also estimates that the glut of homes in Spain could reach as high as 1.5 million units by the start of next year, which is far higher than the Ministry of Housing's projections.