Spain property market shrinks by 48%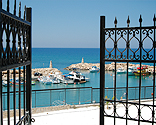 17 June 2009
The Spain property market contracted by 48% in April, compared to the corresponding month last year, according to the latest data released by the National Institute of Statistics (INE).
The figures show that there were just 26,251 property transactions in April (excluding social housing), the worst sales figures on record, illustrating the existing lull in demand for property in Spain.
The Spain property transactions recorded in April were 16% less than March and on a year to date base, 39% below the first four months of 2008.
The greatest fall in sales was recorded in the resales market, down 52% to 13,535, whilst new builds had fallen 43% to 15,682.
The greatest fall in Spain property sales were recorded in the Castellon province (-63%), followed by the Balearics (-59%), Las Palmas province (-58%), and the Valencian Community (-56%). The fall in sales was less drastic in Málaga (-38%), Cantabria and Galicia (-33%).