Spanish mortgage lending down 42%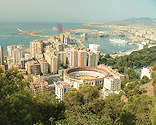 30 June 2009
The volume of new mortgages approved in Spain in April dropped by 42% to 50,288, compared to the corresponding month in 2008, illustrating the extraordinary fall in demand for property in Spain, according to data compiled by the country's National Institute of Statistics (INE).
On a monthly basis, new lending fell 4.1% between March and April, while the average value of a new residential mortgage has fallen by 18.4% to €115,442 (£98,324), possibly to reflect the fact that Spanish property prices have fallen, while buying budgets have unquestionably dropped.
The low new lending figures further demonstrates the weak nature of the Spain property market at the moment, with the country suffering from a stringent oversupply of vacant homes on the market.
INE's figures suggest that the housing downturn in Spain may still have some way to go until the market eventually bottoms out.
The data further shows that the average mortgage interest rate agreed in April to buy a property in Spain was 4.7%, owed largely to low Euribor base rates.