Top 10 Overseas Property Investments in 2010 - 5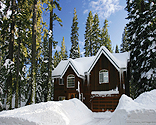 5. Property in Switzerland
Many of the high earners currently living in Britain look set to quit the UK in droves ahead of the introduction of a 50% top tax rate in April 2010, and escape to more tax-friendly shores, such as Switzerland.
The Swiss authorities are actively lobbying to attract many of these disillusioned high-net worth individuals, who are being tempted by assurances that they will be allowed to steer clear of European Union regulation and Britain's Financial Services Authority.
It is estimated that hedge funds managing in the region of £10bn in assets have already moved to Switzerland in the past year alone. This has increased demand for homes to rent and buy.
Due to canton restrictions, it has previously been difficult for foreigners to buy property in Switzerland. However, the country has now eased its strict property buying regulations, and opened its doors to more international buyers, partly through the introduction of 'residence de tourisme' style investments, which is similar to the ever-popular 'leaseback' formula in France.

Switzerland, one of the richest nations in the world, is of course a tax haven.
Anyone who sets up permanent residency in Switzerland would be entitled to take advantage of the country's favourable tax law, including the lump sum taxation, which charges a levy based on people's lifestyle and spending habits.
Given that one's taxable income is charged at just five times their annual rent or rental value of their property, and the fact that assets outside Switzerland remain tax-free, should ensure demand for Swiss properties - to rent and buy - remains strong for years to come.
Historically, Swiss property values have typically appreciated in line with inflation. Properties located at the top end of the market, in cantons like Valais and Vaud, have reportedly increased by up to 20% in the past year.